When:
May 18, 2019 @ 6:00 am – 4:30 pm
2019-05-18T06:00:00-05:00
2019-05-18T16:30:00-05:00
Where:
Bullheads Bar & Grill on Sakatah Lake
256 E Main St
Waterville, MN 56096
USA

***SOLD OUT***
Tournament Directors are David Mikkleson and Anthony Heimkes.
Justin Squeaks Lang will be in charge of shirt distribution and help the tournament directors with other duties.
Tim Johnson is the winner of the Facebook FREE entry give away, 1-21-2019.
 Here is the agenda for the 2019 Vibe Kayak Bass Tournament at Lake Sakatah
***Small details are subject to MNKFA change***
From Grant: Sakatah state park officer Dennis cleared us to use the boat ramp area for the captains meeting. Guys who are NOT launching in the park can come to the meeting and leave after, without buying a pass. (He called it a "courtesy pass")
The guys who ARE staying still need to buy a day pass at the self pay box when they enter. Pay box is located at the main office when you enter. I believe it's 5$ cash for the day.
He is also going to call the CO officers to let them know we are good to do this. (Make sure we've got our permit on hand) they will probably pop in for fun to see the take off.
He also said we have been one of the best groups to be there over the past few years. They always look forward to our arrival. himself and the staff can't wait to see us. He wants to take some pictures of our group too.
Saturday 5/18/2019, 7:00AM MANDATORY!: Check in at Lake Sakatah State Park boat launch for the MANDATORY Captain's meeting where we'll go over all the rules, fill out and sign waivers, and give you the control image. FAILURE TO BE AT THIS MEETING WILL RESULT IN DISQUALIFICATION!
Saturday 8:00am: You can launch at any public launch on Lower Sakatah, Sakatah or Tetonka Lakes. You may NOT use any private access to the water for this tournament. ONLY public access that is available to all is allowed.
Saturday 3:00pm: You MUST be physically back at Bullheads tournament headquarters. Turn in photos of your catch to the tournament director if you could not or did not email your photos. Have a soft drink and chit-chat with fellow kayak anglers. Check out the prize give aways. YOU MUST BE BACK BY THIS TIME. THIS IS MANDATORY. IF YOU ARE LATE, YOU WILL BE DISQUALIFIED.
!!!SAFETY!!! Everyone is required to check back in with the tournament director at the end of fishing. You do not need to stay for the awards ceremony if you did NOT win a prize. We MUST know you are off the water safely. If you won a top prize, you MUST attend the awards ceremony to claim the prize. If you are not at the awards ceremony, your prize goes to the next highest finisher attending the awards ceremony.
Saturday 3:00pm to 3:30pm: Have a drink and chit-chat with other kayak anglers.
Saturday 3:30pm to 4:30pm: We'll announce the winners of the tournament, then hand out early bird winner prizes, then give away lots of prizes as fast as we can.
The rest of the weekend: You're on your own. No formal plans. Find a new friend and go out fish with them!
Tournament Prizes
FIRST PLACE: Vibe Sea Ghost 130 Fishing Kayak, retail value with shipping $900 PLUS $25 cash.
SECOND PLACE: Vibe Sea Ghost 130 Fishing Kayak, retail value with shipping $900.

More prizes will be announced and added as we get closer to the event. These prizes may change.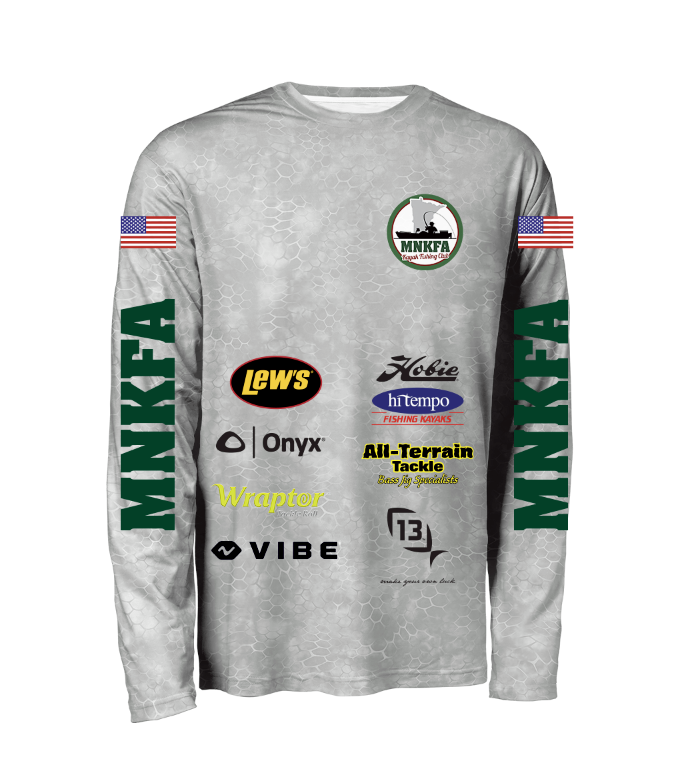 Everyone who is officially entered gets an MNKFA performance fishing shirt, $30 value!
---
Minnesota Kayak Fishing Association rules for this tournament (rules subject to change)
Interpretation of these rules will be left exclusively to tournament officials whose decisions are final. We (MNKFA) reserve the right to change, or add rules to ensure the competition is fair and equal to all participants and sponsors.
1. Registration: Registration for The Vibe Kayak Fishing Tournament will be announced a week prior to opening on facebook. Registration will end Friday, May 17, 2019 at 5:00pm central standard time or when all 75 spots are sold.
2. Requirements: This tournament is strictly catch and release. Tournament control card will be supplied at the event. Control Card must be in the photo with your catch. Your photo must include a fish measuring device like a Hawg Trough or similar tournament-approved measuring device.  The ruler marks must be easily legible in your photo submission. The Control Card must appear in each photo submitted. Failure to include this will disqualify your entry. All submissions MUST conform to current rules on this page: Fish measuring / pic submission rules
3. Scoring: The tournament will feature Bass (both large and small mouth only).  Longest combined length of FIVE (5) top bass WINS! You can upgrade your smallest fish submitted with a larger one at anytime during tournament fishing hours.
4. Start and Finish Times: Tournament fishing will begin at 8:00 am CST 05-18-2019. End of the tournament fishing will be 3:00 pm CST 05-18-2019. All photo entries must be emailed AND received by 3:00 pm CST 05-26-2019. If you're not able to email, you must be in the line at tournament headquarters to give your submission to the tournament official by 3:00pm CST 05-18-2019. We are NOT responsible for any internet connectivity issues!!! Send your entries early. NO EXCEPTIONS!!!
5. Event Details:  This event is an opportunity to spend time together as a group and get to know one another. There will be prizes and an award ceremony following the close of the tournament fishing at tournament headquarters. All winners MUST be present at the award ceremony or they forfeit any winnings.
6. Catch: All fish must be taken with a fishing rod, line and artificial lures on the day of the tournament during tournament fishing hours. Participants must fish from a human powered kayak, NO OTHER BOAT TYPES ARE ALLOWED. Only ONE angler may be in the kayak. No gas or electric motors are allowed! Absolutely no other method will be permitted.
7. Safety: We strongly encourage that a PFD be worn. Bring a whistle with as well, another practice that should be followed while paddling. Kayakers must be in accordance with state regulations. Safe boating conduct must be observed at all times.
8. Sportsmanship: Sportsmanship, courtesy, safety and conservation are expected from each angler. Any infraction of these fundamental sporting principles may be cause for disqualification. All participants must follow the DNR regulations in effect on the waters they are fishing.
9. Fishing Boundaries: You MUST fish and launch ONLY on Lower Sakatah, Sakatah or Tetonka Lakes. Plus, you MUST be at the Captains meeting in the morning at 7:00am  AND back to tournament headquarters by 3:00pm.
10. Weather: Anglers are to exercise their own best judgment for safety when considering whether to fish or not.
11. Cheating Inquiries: Any inquiries of cheating will be handled by Tournament Officials, and polygraph tests may be used to settle any cheating disputes. Person(s) bringing allegations assumes all costs for any polygraph testing. Person(s) making any cheating allegations agrees that their name will be made public. MNKFA also may require winners to take a voice stress analysis test to confirm winners honestly can claim they followed all the rules.
12. Prizes: See top of this page for fishing tournament prizes, there will also be give away raffle prizes.
13. Board Member Participation: Board members, employees of sponsors or owners of sponsor companies are eligible to register, sign-up and win any prizes and subject to all the same scrutiny as any other entrant. In other words, if they win honestly, honorably and according to the rules, they win and deserve the appropriate gains from their investment (entry cost).
14. Waiver: Submitting the form and payment below is your agreement to the above rules, regulations, terms and conditions, liability acknowledgement, otherwise the angler is ineligible to participate. You MUST be over 18 years of age and show valid identification at the captains meeting to be officially entered in this event and sign a waiver in person at the captains meeting. Minors are eligible to participate only if accompanied 100% of the time during this event by a parent who signs a waiver for the minor. You MUST be present and on-time at the captains meeting in the morning. You MUST be present and on-time and back to tournament headquarters. You MUST follow all rules to win a prize in this event.
Everyone that is officially entered (paid) for this tournament has a chance to win tournament prizes and will be entered to win prizes.
NOTE: MNKFA board reserves the right to make changes to the rules at any time in the spirit of making the tournament more fair and equal to all participants.
No refunds will be made for any reason once you have signed up. Names are added manually to the entrant list. The list below is the ONLY people allowed to fish in and for this tournament.